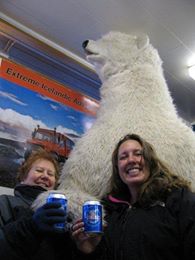 Glide through the hills and valleys of northern Iceland on this exciting snowmobile excursion. This tour is perfect for any seekers of thrill who wish to spice up their holiday with an icy adventure.
The tour starts in Akureyri, located just 100 kilometres away from the Arctic Circle. There you will be picked up in the town's centre and driven to Súlur, the beautiful cone-shaped mountain that overlooks the city. If you prefer, you could also drive towards the snowy peaks yourself and meet your guides at the foot of the mountain.
Once you arrive at the snowmobiling basecamp, you will be fitted with protective gear such as thick overalls, a helmet and a pair of gloves, and given a quick safety briefing where you'll learn to operate the vehicle. Your local guide will also tell you a little bit about this area north of Súlur mountain; it's rolling hills, freezing river and uninhabited valleys.
Then there is nothing left but to mount your vehicle and explore the snowy landscape by speeding across the plains. You'll zigzag in the powdery snow along the dunes and ridges of the mountain with the adrenaline surging and the fresh mountain air in your lungs.
Gliding through the snow can work up an appetite, which is why your guides will bring authentic local food for your to sample after your ride.
If you think the traditional snacks aren't going to be enough to satisfy your hunger, you can ask the guides to bring their 'barbeque sledge'; an outdoor grill fitted with skis so that you can have some tasty treats cooked for you high up in the mountains.
Don't hesitate any longer and book now for this once-in-a-lifetime experience. Hit the snow at full speed and get to know the beautiful mountains in northern Iceland. Check availability by choosing a date.